RODO
- ochrona danych -







ABOUT US
Kret i S-ka firm is a engineering company being in business for 21 years. It was established in 1994 as a one-man business. The main cause of that act was rapidly changing economic conditions in Poland. Today we can prodly say that in 1994 firm has started implement own technicial ideas and desires.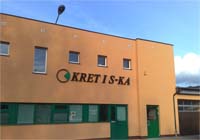 Nowadays, we operate in wide scale. Each product we made is diffrent to the others because all of them are designed and produced for individual order. That differentiation consist of technical complexity, weight, size and of course price. To make our products best as possible we cooperate with universities, science institutes and other companies.

Receivers of our products are both small and big, well-known companies.
Among offered products you may find there most of significant brands in hydraulics, pneumatics and electronics components.

If you have any questions about ordering process or need more informations about our products call our Marketing Team: +48 76 81 86 923.